Adam Pottle
is an award-winning author whose work explores the discomforting and liberating aspects of Deafness and disability.
---
b
Bio
I was born in Kamloops, British Columbia sometime in the late twentieth century, part of the generation of millennials who elbowed their way in and took over our cultural scene. I lived in Ashcroft, Kitimat, and Prince George before moving to Saskatoon, where I currently live.
I was educated at the University of Northern BC (BA, 2006; MA, 2008) and the University of Saskatchewan (PhD, 2016).
I was born part-deaf in both ears, and this sensory calibration has kept me in a state of perpetual childhood, preserving my imagination and helping me to become a writer.
The writers who've had the most influence on me include Mordecai Richler, John Steinbeck, Toni Morrison, Elie Wiesel, Ann-Marie MacDonald, Albert Camus, Hunter S. Thompson, Dennis E. Bolen, Brad Fraser, and Margaret Laurence.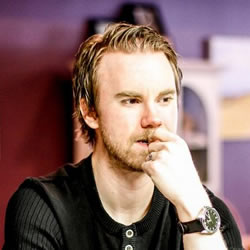 Latest Projects
Upcoming Readings
Hamilton, Ontario
Sunday, January 7th - Lit Live Reading Series - The Staircase Theatre
27 Dundurn Street N. Hamilton, Ontario - 7:30 pm
Toronto, Ontario
Monday, January 8th - Rowers Pub Reading Series - Glad Day Bookshop
499 Church Street Toronto, Ontario - 6 pm
More readings and details will come in the near future. Stay tuned!